GOLDENSGLEN was whelped (pardon the pun) out of a love for Golden Retrievers.  I had my first Golden in 1998 when I rescued one.   His name was Simba and he was the most loving dog. 

Fast forward ten years later.  I find myself trying to pick a puppy with my children.  We were introduced to the British style Golden Retriever and that's where the love affair began.  When I was a young girl, I used to think golden retriever puppies were the cutest in the world (I still do!).  I remember watching TV commercials with golden retriever pups in them and begging my parents for one.  Sadly, fish were the only pets allowed in my house as a child.  You can imagine getting my first house and getting to have my first dog.  What a great day that was!!
I have been blessed to have worked with some of the most outstanding breeders in the world.   We do not breed often, but when we do, good health and sweet temperament is our primary concern for our puppies!  Our goal is to further the health and well being of the breed so our families will have many years of good health and love from their GOLDENSGLEN Golden.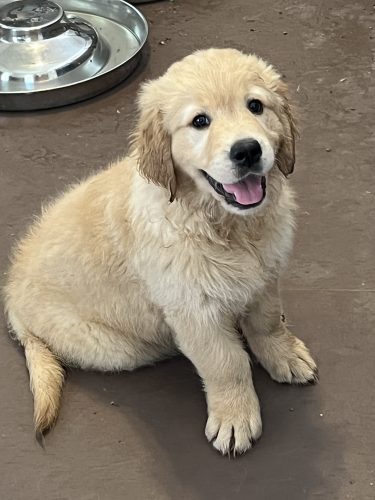 We are members in good standing with:
* Golden Retriever Club-UK
* Golden Retriever Club of America
* The Sandlapper Golden Retriever Club
Our dogs are registered with the American Kennel Club.